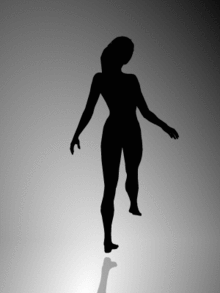 這副 "旋轉的舞女" 是基於科學家所謂 "視覺暫留". 視覺暫留 (Persistence of vision) 是光對視網膜所產生的視覺在光停止作用後,仍保留一段時間的現象,其具體應用是電影的拍攝和放映。原因是由視神經的反應速度造成的,其時值是二十四分之一秒。是動畫、電影等視覺媒體形成和傳播的根據。"旋轉的舞女"是由幾張平面圖, 以適當的速度變換, 我們的意識(大腦)將這些圖片影像加以 "解釋" 圖片本身沒有右轉或左轉.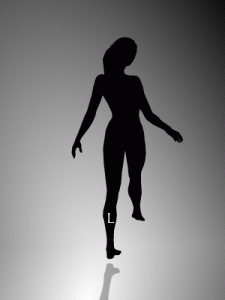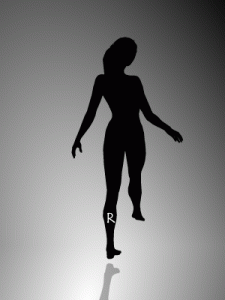 我們日常使用的日光燈每秒大約熄滅100餘次,但我們基本感覺不到日光燈的閃動。這都是因為視覺暫留的作用。視覺實際上是靠眼睛的晶狀體成像,感光細胞感光,並且將光信號轉換為神經電流,傳回大腦引起人體視覺。
視覺暫留現象首先被中國人發現,走馬燈便是據歷史記載中最早的視覺暫留運用。宋時已有走馬燈 。隨後法國人保羅•羅蓋在1828年發明了留影盤,它是一個被繩子在兩面穿過的圓盤。盤的一個面畫了一隻鳥,另一面畫了一個空籠子。當圓盤旋轉時,鳥在籠子裡出現了。
這裡解說了諸法實相 是剎那生滅 我們(99.99999%)的人現前看的這個世界是個 "相續相",念念相續。前念過去,後念又來,永無間斷。明心見性的人看的是 "靜相" 如如不動 (八地以上的菩薩)。
Left Brain Right brain and the Spinning Girl
The principle of the rotating dancer is just like how the movie works. It is based on the principle of the "Persistence of Vision", which refers to the phenomenon where the retina retains an image for a brief split-second after the image was actually seen, and lends itself to animation by fostering the illusion of motion when we view images in closely-timed sequence to one another. We don't notice the fractional skips between images because that persistence fills in the momentary gap to make the motion seem seamless.
It consists of a set of two dimensional pictures (see examples below), 24 per seconds, and our brain reconstructs/interprets the sets of pictures as motion. These kinds of optical illusions are always fun. What they reveal is how our brain processes visual information in order to create a visual model of the world. The visual system evolved to make certain assumptions that are almost always right (like, if something is smaller is it likely farther away). But these assumptions can be exploited to create a false visual construction, or an optical illusion.
The spinning girl is a form of the more general spinning silhouette illusion. The image is not objectively "spinning" in one direction or the other. It is a two-dimensional image that is simply shifting back and forth. But our brains did not evolve to interpret two-dimensional representations of the world but the actual three-dimensional world. So our visual processing assumes we are looking at a 3-D image and is uses clues to interpret it as such. Or, without adequate clues it may just arbitrarily decide a best fit – spinning clockwise or counterclockwise. And once this fit is chosen, the illusion is complete – we see a 3-D spinning image.
By looking around the image, focusing on the shadow or some other part, you may force your visual system to reconstruct the image and it may choose the opposite direction, and suddenly the image will spin in the opposite direction.